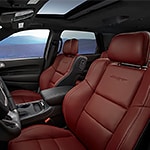 The Dodge Durango is the powerful three-row, mid-size SUV that offers you an incredible amount of performance and lots of space. Inside the Durango, you will find one of the most welcoming and comfortable cabins on the road, here are some of the top interior features available on the Durango.
The Dodge Durango is the mid-size SUV that gives you comfortable seats for up to seven passengers. In the first two rows, you have single individual seats that allow for lots of personal comforts. The third row features a wide bench seating and allows room for up to three adults. This makes the Durango the ideal SUV for growing families on the go.
The second two passengers will have their own center console where they'll have everything that they need. The center console includes two AC vents, USB ports, climate controls, and a 115-volt outlet. That makes the Dodge Durango one of the most accommodating vehicles on the road today.