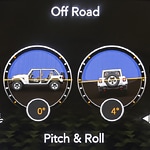 The Jeep Wrangler is a vehicle that is easy to maneuver. You will even be able to maneuver it around fallen logs and rocks. It is also able to handle unpredictable conditions. Additionally, there are several capability features that will make it easier for you to drive.
This vehicle has Select-Trac 4*4 system. It has both two-wheel drive and four-wheel drive. Two-wheel drive is best to use when you are driving on a clear road. It is best to use four-wheel drive when you are driving in harsh weather. It can handle ice, rain, and snow. Four-wheel drive provides you with the additional traction that you need.
Power can sometimes be misapplied during rock crawling. The wrong wheels may spin if this occurs. The Front and Rear Tru-locking can prevent this from happening. This system will also help evenly distribute the power so that you will have additional traction.